In the year 2019, we are going to give an account of the achievements in the field of literature in Himachal. In this issue, we are giving the details of how this year was in terms of story writing, how much other literature was created in Himachal. Along with this, we will also look at how different writers see this year from the point of view of literary creation. Introducing the second installment of Reflections on the Literature Yearbook:
The Hindi story of Himachal has been in considerable discussion from time to time, sometimes because the writers here, depicting the Himachali environment, due to thematic originality in big magazines, gave readers new taste stories to read and sometimes publicity. I won accolades on the strength of efficiency. It is the color of the times and today's way of writing honestly, but even more honestly, get your creations discussed. It has also been shown by some storytellers of Himachal in this way, which some commentators have named as hospitality and some have accepted it as exchange. Hippp hipp hooray storytellers brothers. In the year 2019, the old charioteer of Himachal has hoisted the flag of the story. There are also some Baidhu story writers who have made their presence felt by writing sporadic stories. I have no hesitation in saying that the old bull has been running the horse of the story throughout the year. Among the senior story writers, Yogeshwar Sharma was the most active and his two story collections came out in print. He has written stories in a philosophical style in the story collections like Basavan etc. Sharma ji, who has written a progressive story like 'Jailiya', has shown his contemporary curvaceous vision by writing a story like 'Sadak Pe Pahar'. The Hindi story writer of PCK Prem appears sobbing in 'PCK Prem ki Chosen Kahaniyan' and wants to call out and say that listen, I write stories not only in English, but also in Hindi, but in today's era of turmoil, who and whom? Hears.
Sudarshan Vashistha is the magician of revelation. Now Pandit ji's collection in panoramic form has come in the form of 'Meri Priya Kahaniyan'. First came the complete stories. Carry on Munna Bhai. Where is Keshav going to stay behind? He has appeared as a follower of his friend Full in Prabhat Prakashan's series Meri Popular Stories. It can't happen that SR Harnot does not spoil anyone. The presence of Harnot and Rakesh in Lamhi Patrika makes us proud. The stories of Badrisingh Bhatia, Niranjan Dev, Chandrarekha Dhadwal also underline their activism in newspapers and magazines. It would be appropriate to mention here the story of Late Naresh Pandit 'Poison Ki Kheti'. Pandit's stories are realistic progressive stories, which will always be appreciated for their prickliness of content and communication. Pahari and Hindi poet late Krishnagopal Piyush Guleri's story collection 'Ek Fact Atka Hua' has come recently. Piyush has also written some good sizzling satirical stories like 'Mahafroud'. He weaves the story by combining real events and ruthlessly goes where he wants to ax. I also believe that most of the stories are actually based on incidents raised from life and due to being realistic, they become effective. Whenever I get an opportunity, I will expose the heroes and heroines of my stories in front of my readers, but not at the moment. RC Sharma, Dr. Satyapal Sharma, Sudarshan Bhatia are also constantly busy in their creative work. Yes, Sundar Lohia's silence is a problem. Trilok Mehra's story collection Anim Rai Ka Sach highlights his new avatar. Mehra, the storyteller who is engrossed in the plots, has now become a magician of words. Even through syntax he wants to terrorize the reader. It often happens that the author wants to show the skill of his craft in many ways. Senior writer Rajendra Rajan, who has written a good story like 'Author Ki Maut', read a quirky story on the ongoing connectivity in Jammu and Kashmir on the occasion of Yashpal Jayanti, which despite having a good theme, did not become a story, but Rajan when will anyone talk? Believe it and not at all of the family members i.e. Himachalis.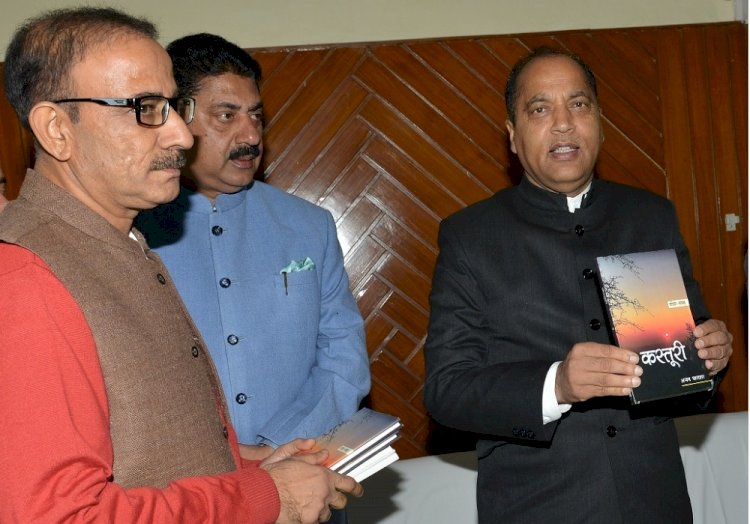 Ajay Parashar is also in the news for writing many types of stories. His story 'Alla Ditta alias Devidita Hajir Ho' based on Pongbandh displaced people was also read in a seminar. The story collection 'Dhol Per Thap' by Murari Sharma brings some Himachali flavour. Sandeep Sharma wants to say a lot in his stories, good point, but it feels great when he gets stuck in twisted paths like Badrisingh Bhatia in the pursuit of expansion. Suresh Shandilya has been writing stories for almost two decades, but no collection has come yet. This year his stories became atheist and period special. After a long gap, Gyan Varma again started writing stories. The residents of Mandi district have settled in Delhi, so the mixed taste of life of Himachal and metropolis is natural. Two-three stories published this year by the author of the presented lines 'Recovery Agent', 'Joe Sanju' and 'Retribution' are enough to give the author's certificate of survival. Gurmeet Bedi, Kailash Ahluwalia, Rajinikanth, Hansraj Bharti, Sher Singh, Gangaram Raji, Krishna Mahadevia, Pawan Chauhan, Ashok Sareen, Kalyan Jaggi, Suman Shekhar, Ravi Sankhyan etc. were also active in story art. The story of Himachal is moving continuously. Sometimes the storytellers make jumps, but the old bulls are being driven to the cart of the story, even though they are locked in their respective cocoons, as far as their content and craft are concerned. Umesh Kumar Ashk had emerged a star, but remained entangled in household and job. Maybe he was writing silently. Hats off to Om Bhardwaj who is eager to run fast and write more and more. Vikram Gathania, Manoj Kumar Shiv and Atul Anshuman are also budding storytellers. Inadvertently, if any important name was missed, it was promised to include it in the next discussion.